Distilled in 2011, the Watkins Whisky Co. has been aged in hybrid casks. No [certainly not] GMO barrels – but casks made of staves from French 'barrique' (casks used to age red wine) and the heads from American (bourbon) barrels. Bottled in a distinctive (for whisky) bottle – Mark remembers these shaped bottles from his grandad's rubbish pile behind the distilling shed. Interestingly (not to mention delightfully) – these are 750ml bottles – not the 'normal' 700ml.
On the Nose, the Watkins Whisky Co  is rich in sweet, fruity notes, with butterscotch and demirira sugar – or is that banofey pie? – featuring strongly. Interesting lavender notes after whisky has aired for 5-10 mins.
The palate has apricots and caramel pudding with fairy-floss sweetness. Beautifully viscous mouthfeel – not so much oily as 'thick'.
Finish is medium in intensity – but twists its way around the mouth for a fair time. Initially spicy – this quickly succumbs to notes of sultana, wood, leather.
WATKINS WHISKY CO – DISTILLERS NOTES
ABV: 43%
Bottle Size: 750ml
Region: Australia
Peated: No
Aged in ex redwine reconditioned French Oak barriques with American oak heads. Displays rich luxurious amber colour. Sweet honey and spice on the nose. Complex sherry, port and vanilla on the palate.
– Mark Watkins.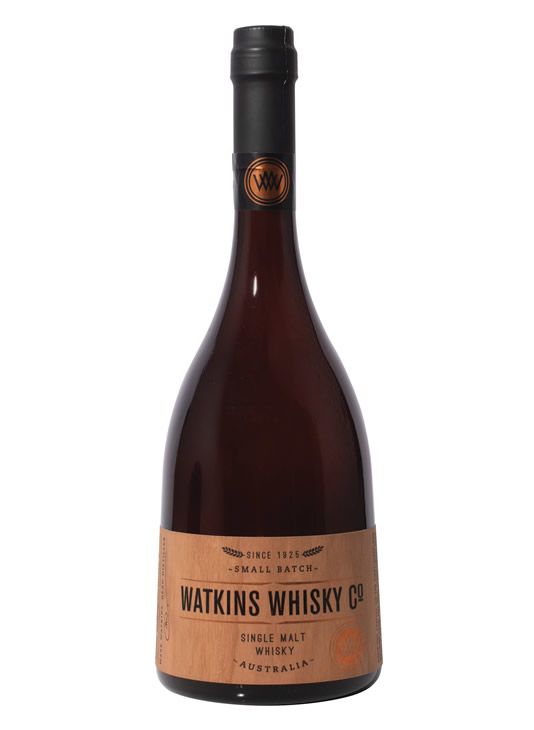 The Mt.Uncle Distillery must be about the best kept non-secret in the Australian Whisky scene. I'm willing to bet that only a scant handful of our members have ever heard of it – I'll bet even less know they make whisky. And like I said – it's not as if Mt Uncle distillery is a secret – it won Distillery of the Year in 2017 at the International Wine and Spirits Competition. In 2018, it won medals for all spirits it entered in the IWSC and it's Watkins Whisky Co. release took Silver. It did receive some notoriety in 2015 with it's 'Big Black Cock' single malt (with the obligatory, explanatory picture of a rooster on the label) – but the Mt Uncle brand seems to remain just under the radar of the average Australian whisky fan. We hope we can help change all that.
Built in 2001, the Mt. Uncle Distillery is the brainchild of Mark Watkins and it remains North Queensland's only distillery. Mark originally hails from Tasmania where his dad and grandad (and great grand-dad) engaged in some "fairly dodgy stuff" (his words!). Of his ancestors nefarious activities, it is distilling which remains a firm childhood memory for Mark. Now a legitimate and licensed distiller, Mark has continued to involve family and his wife Claire handles the distilleries sales and marketing for Mt. Uncle.


Nestled in a banana plantation and surrounded by macadamia and avocado orchards – Mark set out to build a distillery that could showcase the local produce within the gins, rums and liquors that it creates. Fantastic for those products – but what of the whisky? Well for a start, local barley is out as it isn't grown up there. So Mark has gone for the 'as local as possible' option and uses barley grown near the Queensland town of Dalby.
One would think the climate too hot that far north to age a whisky. However, being on 'the tablelands' means slightly milder highs (but still quite warm) during the day but cooler nights. That constant cycling of temperature aids the maturation process by causing more 'movement' of the whisky in the casks – thus exposing more directly to the wood. The 'Angels Share' is surprisingly low at 3-8%. "Our locality allows us to get very fast successful ageing of spirits due to the warm days and cooler nights here in Walkamin," he said. "We only use the best quality products and processes and that's why our products shine."