Our first Tassie Trifecta of Whisky is an incredible Adams Distillery Special Release from the rockstars of Tasmanian Distilleries – Adams Distillery. What a way to start the trifecta with an Adams Distillery Special Release Pinot-Bourbon Slosh Barrel  from the boys in Perth, Tasmania.
The finish is long and sweet with caramel fruit, vanilla beans and a most pleasing leather quality. This whisky has been doted upon by the Adam's boys since its birth…a whisky that has been attended to every month like clockwork in a brand-new concept in ageing whisky.
To make this one of a kind release, Adams take an ex-Buffalo Trace Bourbon cask and half fill it with new make. This is aged for around 2 years and every month or so, the cask is 'sloshed' around and then flipped to the other end. After this, it is transferred to a Goaty Hill Wines Pinot cask and once again, lovingly 'sloshed' and flipped every month or so for another 9 months. Hey presto… the Pinot-Bourbon Slosh Special Release!
This Adams Distillery Special Release is an exclusive release for The Single Malt Whisky Club and we couldn't be prouder to release it to our members as part of the Tassie Trifecta of Whisky!
Nose: Caramel pie, dried fruits, raw cookie dough some pear notes and just the slightest hint of vanilla.
Palate: Sweet caramelised fruit, vanilla beans and a most pleasing leather quality – and   tiny amount of astringency. Luscious oily mouthfeel.
Finish: long and sweet. A slight spicyness around the back of the mouth, toffee and a burst of bubble gum at the end.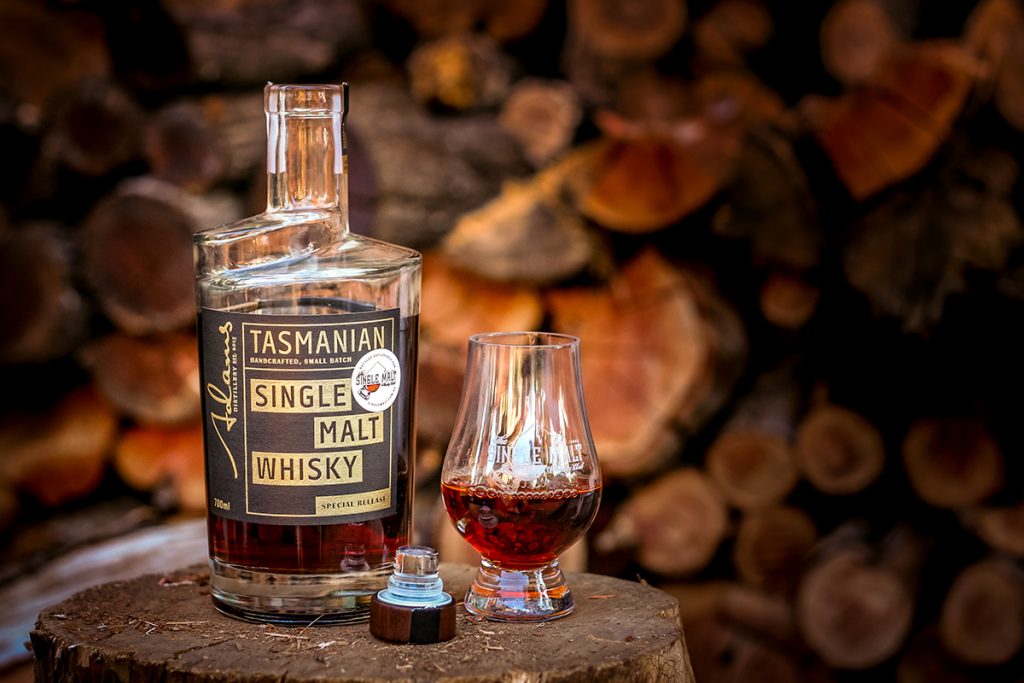 This Little gem of a whisky from the Adams team has been guided throughout its life in 2 casks. Firstly we put 150 Litres  in a 200L Buffalo Trace cask where it was sloshed around for a little over 2 years and then after this had been turned into a sweet vanilla treat it was then placed into a 225L Tasmanian Ex Pinot barrel from local winery Goaty Hill. It spent 9 Months also as a slosh rolling around, being flipped, turned and thrown about to embrace the beautifully fruitful and passionate flavours of a quality Tasmanian Pinot.
Our signature grain bill of 3 malts, Dark Crystal, Tasmanian Pilsner and Beechwood Smoked Barley from Germany has been double distilled over open flame with our original direct fired stills designed by The Adams Duo and built in Tasmania. This combination of original maturation methods, the use of multiple grains for some complexity and custom designed stills has given this spirit unique characteristics
At 50.1% this strong and robust raw spirit leaps fruits and spice straight out of your glass, After 60 seconds of rest and a gentle swirl the sweet vanilla and Christmas cake notes start to emerge.
With the first sip there is a sharp but pleasant spice that hits the tip of your tongue; in an instance your mouth will fill with subtle butterscotch and vanilla. The pinot brings some dry characteristics to the party with banana and apricot.
The long finish is characteristic of an Adams Single Malt, sweet honey notes are starting to form, a pleasant oily mouth feel with a very distinct earthy undertone.
We're not done yet. Add a drop or two of water and start the whole adventure again. Depending on how much you like to add, you will have the pleasure of enjoying this whisky across multiple levels.
Strangely enough, the Adam's Distillery is run by two blokes called Adam with a third partner, professor Bernie Einodor.  Adam Pinkard and Adam Saunders are two old mates who have built and setup their own Tasmanian distillery. What did they call it? Adam's Distillery of course! Located in Perth, Tasmania they are a distillery kicking big goals.
Back in 2013 Adam Pinkard went on a Scottish holiday with his dad, wherein they did their best to deplete the Speyside region of its finest drams. It was during this sojourn, that the seeds of desire to make his own whisky were sown in Adam's mind.
On his return, Adam began his journey into whisky making with a lot of reading, YouTube-ing and discussions with anyone he could find who was knowledgeable in the art. In 2014, Adam was introduced (by another Adam as it turns out) to Mathew Cooper – owner of Fanny's Bay Distillery. A friendship was quickly struck, and over drams at a subsequent distillery visit, Mathew agreed to mentor Adam' s journey. Many more visits to Fanny's Bay saw Adam's 'apprenticeship' progress to the point that Matthew was encouraging Adam to get out there and do it himself!
It was at about this time that Adam (Pinkard) met up with an old mate called Adam (Saunders) for dinner. Adam and Adam got chatting about the whole 'whisky making thing'. By complete coincidence (or was it?), Adam Saunders happens to be a builder by trade. It wasn't long before a partnership emerged. Adam P would do the distilling whilst Adam S. would build and maintain the distillery. A partnership made in heaven.
So it began. A site in Launceston was chosen and construction began. Work was well underway when the council issued a 'stop -work' order and refused to allow the establishment of the distillery. The Adam's boys had hit a major hurdle. However, this hurdle was soon overcome by the addition of a third partner – Professor Berni Einodor (known as 'the prof'). The Prof 's contribution to the partnership was financing the construction of a new shed to house the distillery and also supplying the use of his 'Glen Ireh Estate' in Perth as the new home of the distillery.
And so Adam S. began the task of constructing the distillery (whilst Adam P. took a sojourn the USA it must be pointed out!). And after a lot of hard work the distillery was finished – complete with 1600 litre still made from their own design. In 2015 Adam's Distillery was officially opened and Adam Pinkards dream finally realised.